Articles
Local Optometrist Offering Free Infant Vision Screening


The new Village optometrist is on a mission to prevent children with correctable vision problems from going undiagnosed.
Dr. Aleksandra Wianecka, OD, has taken over the optometry practice at the Village Optometrist on Deer Park Avenue from long-time practitioner Dr. Worksman, who retired after 18 years.
Dr. Wianecka wants local families to know that there's a full-service optometry practice right in Babylon Village. It offers everything from specialized infant contact lens fitting, low vision specialty care, emergency visits, and adult and pediatric screenings to full glasses and contact lens fittings and purchase.
But the Lindenhurst resident - who previously practiced in Copiague - wants to reach out especially to parents, who might not be aware the standard infant screening administered by pediatricians is not a complete vision test, and might miss up to 30 percent of correctable childhood vision problems.
"I have special soft spot for treating kids, " she explained. "I'm a mom of two girls, and I see all too often what a shame it is when kids can't do well in school, because school is 80 percent visual.
"If we miss the window of diagnosing vision issues before a child enters school, there is often very little we can do at that point," she added.
Early diagnosis and intervention is critical, Wianecka stressed, when it comes to childhood vision. According to the American Optometric Association, up to 25 percent of school-aged children will need treatment due to common conditions like  farsightedness or amblyopia (lazy eye). However, many parents rely on pediatricians to educate them and often are surprised by a later diagnosis once their child does receive eye exams in public school.
"Pediatricians aren't vision experts, and many states have mandated eye exams for babies and toddlers," said Wianecka, who works with pediatricians in North Babylon, Lindenhurst and West Islip, "but New York isn't one of them, and that's why I've joined with the InfantSee program."
The InfantSee.org website lists participating providers like Wianecka who offer free exams to children less than 12 months of age.
She's also in favor of state legislation that would make an eye exam mandatory for all babies. But until legislation is in place she says the best preventative step is routine exams for all children.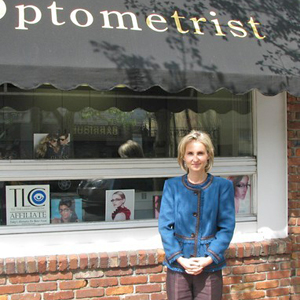 "Even the screenings kids get in school aren't as accurate as a professional eye exam. If we miss treating a child before a certain age, then they may never have fully correctable vision, limiting them from possible career paths, and affecting them for the rest of their lives.
"You have to go with your gut as a parent," she continued. "Don't be afraid to take your child to a specialist or to an eye doctor to make sure."
The Village Optometrist is located at
66 Deer Park Avenue, 

Babylon, NY 11702

For more information call 631-789-6103
Source: http://babylonvillage.patch.com
Fot. Dr. Aleksandra Wianecka in front of the Village Optometrist on Deer Park Avenue. Credit Jacqueline Sweet.